We're very pleased to share next month's programme with you! From April, the GATE will be open each weekday – closing for half a day on Wednesday and over lunchtimes – and we have some old favourites returning, as well as exciting new additions! We are also open until 6.30pm on Thursdays.
Friday breakfasts are back! Breakfasts and hot sandwiches are served 10am – 11.30pm by our food-safety-trained volunteers. Pay as you feel.
Claim your £150 council tax rebate! The CATS Team are on hand to help you claim.
Friday Film Club – Friday 24 June. Free kids' film and cinema snacks! Doors open at 4.30pm. All children must be accompanied by an adult. Booking required – drop in to the GATE or call 0113 378 2190.
Help getting a new job or finding training.
We are open 4-6.30pm every Thursday. We can help with job search, CVs and interview preparation or just talk through what you are aiming for.
Job support with the Social Justice Team (DWP) every Wednesday 10am-12pm. Help with any that are barriers to employment.
Help for 16-24s not in employment, education or training every Tuesday 10-3pm provided by the REACH programme.
The police will be here from 10am-12pm on Friday 10 June and the first Friday of every month (not 3 June as it is a bank holiday). You can come to talk to them about any crime and community safety issues.
Digital Dilemma Drop-in! Every Tuesday and Thursday from 1-4pm. No need to book, call in with your tablet, phone or laptop (or use one of ours) and we can help troubleshoot your digital dilemmas!
There's much more in the programme below – from a walking group on Monday mornings to a knit and natter group on Friday afternoons. If you have any ideas for other activities or sessions that could be run in the GATE, or you are interested in joining our group of volunteers, drop in to see our team or call us on 0113 378 2190.
Carla, Peter and Tracey
BITMO Community & Tenant Support Team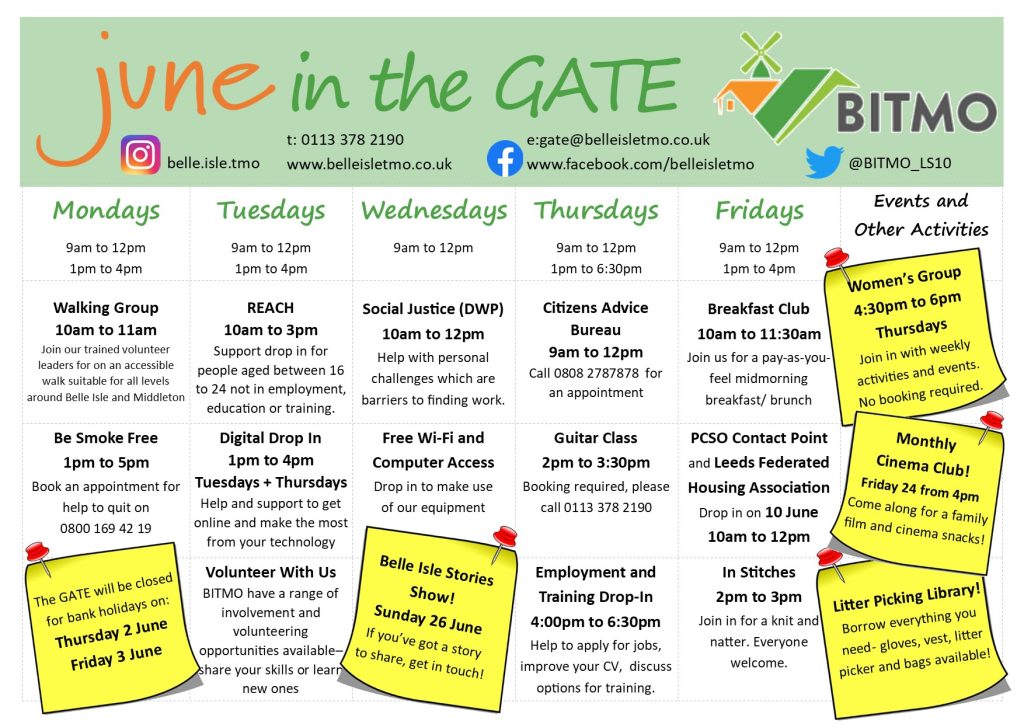 Read more about the new Women's Group that has started at BITMO's GATE here.
Community Involvement Survey
BITMOs GATE has offered Belle Isle residents help with finding jobs and training, financial advice, health and wellbeing and much more since 2013. Which of these services are relevant to you and people you know, what new services would you like to see brought in and could you play a part in future? We want to make sure that BITMO and the GATE's services and sessions are helpful, relevant, and appropriate. You can help us to understand what you, your neighbourhood and Belle Isle needs by completing this survey.
If you would prefer to email us, you can send your comments to gate@belleisletmo.co.uk, WhatsApp or text us on 07891 274 237 or come along to one of our listening events, which will be held in the GATE on:
• Monday 4 October 12pm to 1pm
• Wednesday 6 October 3:30pm to 4:30pm
• Thursday 7 October 9:30am to 10:30am
We'd really like to hear what you have to say.
BITMOs GATE before closing due to Covid in March 2020
BITMOs GATE is the community resource centre at the side of BITMO's housing office. Each month we have a range of activities, events and courses available to support you to manage your home, employment, money and health.
We're open 9am to 4pm Monday to Friday, and you can drop during these times to use one of our computers or access our Wi-Fi if you'd prefer to bring your own laptop, tablet or smart phone.
We work with lots of organisations, charities and agencies to ensure we're offering you the help you need. You'll find a list of our regular sessions below, or use the 'Things to Do' page to search for activities and courses happening this month.
For more information contact the GATE on 0113 378 2190 or email gate@belleisletmo.co.uk
Julie's Ancestry Group
10am to 12pm and 1pm to 3pm.
Join Julie, a local volunteer as she helps you to uncover your family tree and history. Take part in a friendly group session in the morning and if required, further support is available by appointment in the afternoon.
Walking Group
11am to 12pm
Meet fellow walkers at the GATE and enjoy a walk around Belle Isle, returning to the GATE for refreshments. The group meets every fortnight; please check with staff for exact dates.
Art Class
1pm to 3pm
Join John, a local volunteer in an art class for all ages, abilities and experience. The group offers a quiet space to get creative and meet new friends.
Beginners' Computer Classes
10am to 11.30am
Perfect for those who would like to gain more confidence with using the internet, create and use an email account, and get a basic overview of office software such as Word and Excel.  Courses run throughout the year; please check with a member of staff for the next course dates.
Tasty Tuesdays
11:30am to 12:30pm
Local volunteers serve up a warm lunch of soup or a toasted sandwich. Donations are welcome.
Citizens Advice
9:30am to 12:30pm
Please book an appointment to see an advisor at the GATE by calling 0113 344 8367.
Arts and Crafts Class
1pm to 3pm
Join Bev, a local volunteer as she shares her seasonal crafts. All ages, abilities and experience welcome.
Guitar Lessons
6pm to 7pm – beginners
7pm to 8pm – improvers
Whether you're picking up a guitar for the first time or improving your strumming, join John, a local volunteer in his free, friendly classes. Everyone is welcome to come along. Equipment is not provided.
Weight Management
1pm to 4pm
Achieve and maintain a healthy weight. Register with One You Leeds by calling 0800 169 4219.
Happy Friday Breakfasts
9:30am to 11am
Enjoy a hot Full English and 'pay as you feel'. Last order taken at 10:30am.
Stop Smoking Service
10am to 12pm
Help and support to stop smoking. For appointments please call One You Leeds on 0800 1694219.
Knit & Natter
1-2pm
Knitting and crochet group – and a chat. Al levels welcome. Help available for beginners.
Open Social
1pm- 3pm
Our Open Social session is fun ending to the week! Come along to take part in games and quizzes, enjoy some refreshments, and meet new friends.
For more information, to sign up or to get involved with any of the sessions, activities or courses taking place at the GATE, please our Community and Tenant Support Team on 0113 378 2190 or email gate@belleisletmo.co.uk